Köp & Sälj
Båtar, Säljes
DC 21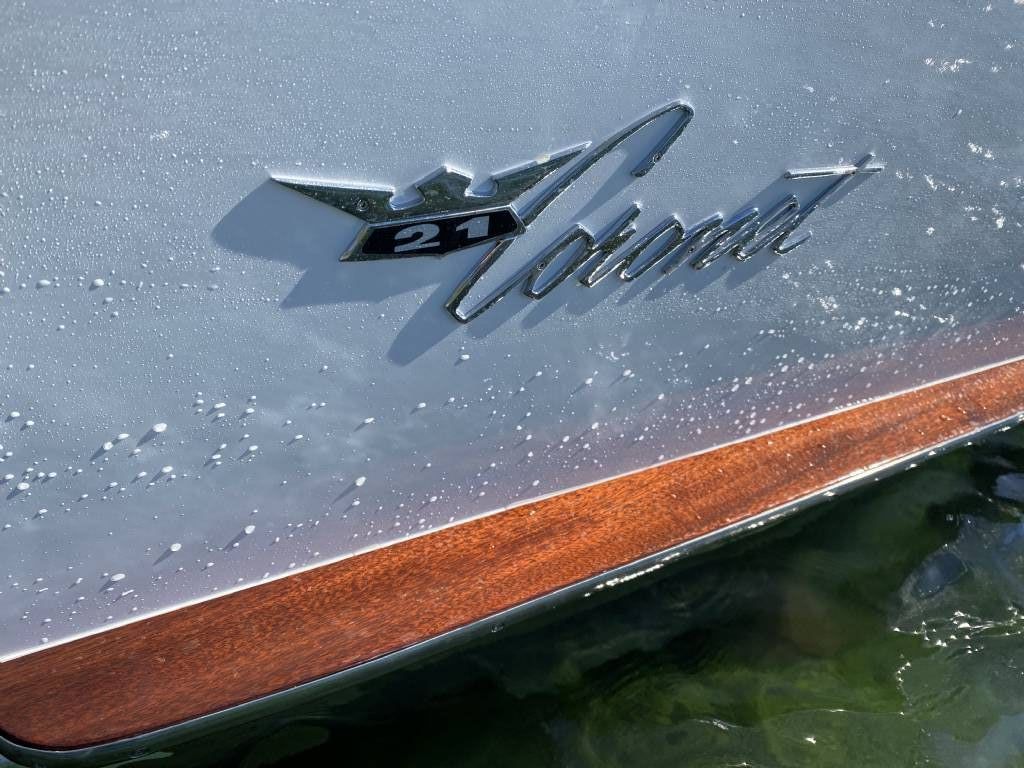 Coronetregistret
Specification

New engine Volvo Penta V6 280 HP (pre used, about 100 hrs runtime)

New petrol tank, stainless steel 220 l

New sterndrive with twin propellers

Zipwake 450 interceptors (zipwake.com)

New electrical installation (wires, fuse box, battery)

Hull stripped and painted with DoubleCoat

Deck stripped and painted with DoubleCoat (Original color code)

Cockpit and engine compartment has been repainted

Rutten plywood replaced with fibre glass in the stern and parts of the deck

The frame for the floor was removed, renovated, refitted

Storage on each side in the cockpit replaced, in solid Mahogany

Original hatch and door renovated and varnished

Bulkhead renovated and varnished exterior

Windshield has been re-sealed

Chairs renovated, new fabric, frame corrosion treated and painted in same colour as the hull

New bottom treatment (4 layers of epoxi + CopperCoat)

Completely rebuilt engine compartment, in solid Mahogany

New engine frame, stainless steel

Original bronze details rechromed (steering wheel, Coronet logo…)

New ventilation windows

New teak in original cleats

New flagpole (original design)

New original Coronet "wing" in stern encapsulating the stern navigation light

Renovated original wood fittings for port and starboard navigation lights

New spray list solid Mahogany, epoxi treated and varnished, stainless protection list

New rail (hull/deck) aluminium /rubber

New stern platform

New sprayhood and cover

New floor boards in plywood and mahogany


What is left to do?
The interior of the boat is in original condition and has not been worked on at all by me.

Engine:
The engine is a pre used Volvo Penta that was used as a demo engine at one of Swedens most well reputable shipyards and Volvo Penta retailers during summer 2018 and had about 100 runtime hours when mounted in MEJA.
Engine run time August 2023=130 h


I have full documentation on the engine and sterndrive.

Location: Gothenburg on the west coast of Sweden

please contact me for more pictures.
/Jonas Granhed,
E-mail
T. +46708468667
Antal visningar: 868
Annonsdagar kvar: 18
Skapad/ändrad: 2023-10-01 07:28:38